About 18 ECTS (1 ECTS=25 hours) of Restoration Laboratory are scheduled each year. These activities, carried out under the guidance of teachers-restorers, focus on the restoration of artifacts of historical and artistic value identified by the Superintendence. The activities take place in the university laboratories and/or at restoration sites. Students are allowed to restore statues, frescoes, wall paintings, stuccoes and mosaics since the first year. The final exam entails a qualification to work as a professional.
The program is multidisciplinary. Students focus on scientific disciplines (biology, chemistry, physics, geology, computer science) and artistic-historical disciplines (archaeology, history of art, restoration).
Laboratory activities are an important part of the educational path that allows students to acquire the skills to work as restorers of cultural heritage.
Students participate in an admission competition. Admission requirements are listed in the announcement (July/August). After the publication of the final ranking list, admitted students can enroll, by paying the first fee instalment.

Degree program class
LMR/02 Conservation and Restoration of Cultural Heritage

Language Italian

Duration 5 years
Course description
The 5-year program qualifies students to work as restorers of cultural heritage. Its organization balances theoretical-scientific background and technical-practical abilities in order to allow students acquire the necessary skills to implement conservation and restoration measures for cultural heritage. Practical learning activities are organized at the University labs or in restoration sites. The professional training is called PFP1 Stone Materials and Derivatives; Decorated Architectural Surfaces.
Students with a secondary school diploma (5-year course) and students with any other qualification obtained abroad and recognized as suitable. Ideal candidates are students with an interest in artistic-cultural heritage and aptitude for practical-laboratory activities
The goal of the degree course is to train professionals in the field of restoration of Cultural Heritage that are able to carry out activities of identification, conservation and enhancement of cultural heritage in the following areas:
1 -Stone, mosaic and derived materials; 2 -Decorated architectural surfaces.
The degree allows students to qualify as professionals and to register in the roll of restorers of cultural heritage in the following sectors: stone materials and derivatives as well as decorated architectural surfaces. Graduates can find a job in: Restoration laboratories and companies; institutions of the Ministry of Culture (superintendencies, museums…); Companies working in the field
Students get the degree and the qualification to work as restorers of cultural heritage.
A multidisciplinary program whose hallmark is the combination of science, art history and laboratory practice
If you have an interest in cultural heritage and want to safeguard it, this is the right degree program for you.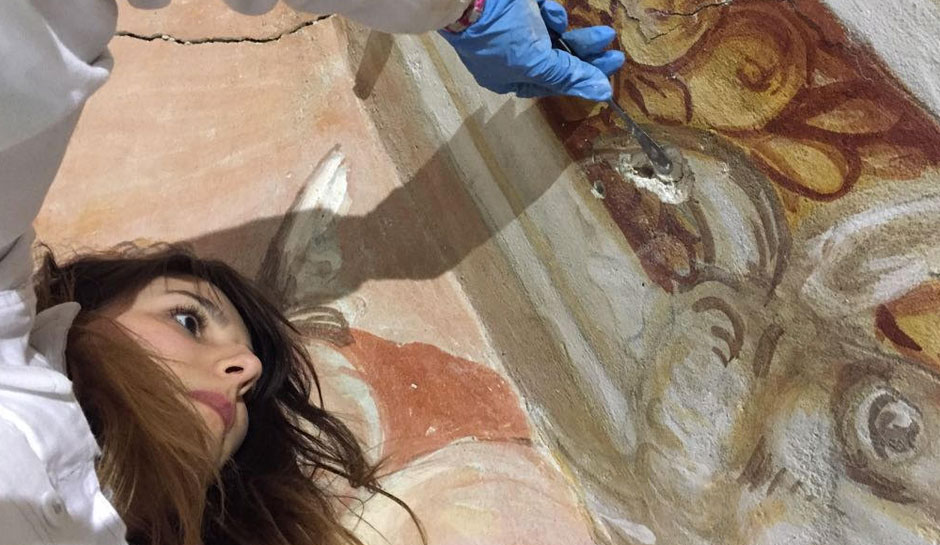 Fees, contributions and exemptions
Costs calculated based on family income (ISEE-University) and including:
fee for the equal access to university studies (from 130€ to 160€)
annual amount (from 0 (if ISEE-University <= € 22,000) to € 2,000)
additional contribution (ISEE-University-15.000/5 max 2.000€)
Flat tax=€1,000 for international students (UE and non UE)
With a family income (ISEE-University < € 24,000) students are entitled to receive:
Scholarship consisting of total exemption from taxes, cash share, canteen and accommodation service (for off-site students)
Grants for international mobility
Reduced rates for the use of sports facilities and cultural services
Benefits for students completing their degrees within regulation time
Exclusively on grounds of merit, students can obtain:
International mobility grants (Erasmus)
Free accommodation and canteen services published in the call DUnicAL career program for student-athletes
Discover the career of former students
Salvatore Minervino
first graduate (18/11/2021) with a grade of 110. He collaborated in the organization of an exhibition with the municipality of Parma, he is currently employed by a restoration company.
Giorgia Salatino
first graduate (18/11/2021) with a grade of 110 cum laude. Selected as intern at Vatican Museums, Rome

Request information for this course
If you want to know more about the Degree Course
For details on the contents of the individual courses, periods of training abroad, teachers, tutors, classrooms, laboratories, research centers, other structures and social initiatives visit the website of the Degree Course.
Go to the institutional website